For many partiers, the most expensive bar tabs might top several hundred dollars.
For others, that's what they're willing to drop on just a few shots or glasses. The big shots of the world are free to spend the cost of a house on a single night of crazy drinking, never minding that this often amounts to upwards of $50,000 in taxes and tips alone.
A night treated to some of the world's most expensive bar tabs is something most will only dream about, so we thought we'd help you imagine it with this list of the ten priciest bar tabs we could scour, plus the big shots who paid for them.
Feel free to judge or drool over what you'll read about here (oh, and apologies ahead of time for all the puns).
10.
$110,000

NBA Blowout
In June 2011, entrepreneur and Dallas Mavericks owner Mark Cuban spent just over 100k while partying at Club Liv in Miami. He's known for his lavish clubbing, but this was a particularly special night out since his team had just won their first NBA championship. A whole 90k of this money was spent on one bottle of Armand de Brignac champagne for his team to enjoy. Sharing is caring, after all.
9.
$135,000

Efron Extravaganza

In October 2011, Zac Efron and Heather Graham were out at the Board Room in Chicago, when one of their biggest fans spotted them and decided to spend the cost of an Ivy League education on champagne and booze for three hours. Who knew Efron's biggest fan wasn't a teen girl, but actually a nameless Russian billionaire? Such a big fan, in fact, he was willing to spend $100,000 of this amount on a Nebuchadnezzar bottle of Armand de Brignac champagne. They of course didn't even finish the massive amounts of bubbly.
8. Mystery Man Makes History at
$136,000
In Dubai early 2012, a mysterious Saudi man spent most of this 136k on one six-liter bottle of Cristal champagne plus a couple thousand on a few extras, including a luxurious dinner. According to waiters, the man was a self-proclaimed big shot. He was definitely something, anyway. It's rumored that there were only three champagnes bottled of this kind, and they were meant for millennial celebrations, which this was not.
7. Getting Cocky After Hockey at
$156,000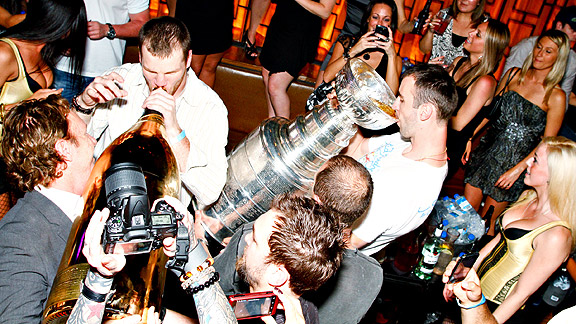 The Boston Bruins hockey team had no shame celebrating winning the Stanley Cup in June 2011. They partied hard at MGM Grand in Connecticut, buying a single, huge bottle of Armand de Brignac champagne for $100,000. Are you seeing any patterns yet? This luxury champagne comes in up to 30-litre sized bottles, and is made with the billionaire connoisseurs (or showoffs) of the world in mind.
6.
$171,000

From "King James" Himself

Basketball superstar LeBron James partied for one night in May 2011 for just over $170,000. XS Nightclub in Vegas earned his very expensive bar tab that night, serving his party plenty of Cristal Champagne: 33 bottles to be exact, among other pricy bottles. But realistically, what most people would kill to earn in a year, even two, is still only several day's pay for this guy.
5. Christian Grey Whips Out
$184,000
In December 2012, PR and creative director Dexter Koh shelled out nearly 200k at the Aura Nightclub in London. This self-proclaimed "real life 50 shades of grey character" was supposedly celebrating having won six figures at poker that day. He wasted, I mean used, the earnings to indulge in what some may consider to be an excessive amount of Cristal and Armand de Brignac champagne.
4.
$250,000

From Beyonce's Baby-Daddy

Jay-Z's got 99 problems but clearly, bills ain't one. In Miami in August 2011, the rapper and hip hop mogul dropped $250,000 on, you guessed it, Armand de Brignac champagne in celebration of releasing the album Watch the Throne. Apparently Beyonce was alright with that, because he went ahead and spent the same amount again after a Coldplay concert on New Year's Eve, 2012. This time partying in New York at the Brooklyn Nets basketball team's Barclays Center, which he partially owns.
3. A
$256,000

Gamble

Millionaire gambler Don Johnson just barely topped Jay-Z's expensive bar tab at the One For One Park Lane in London in June 2011. Another patron of Armand de Brignac, he purchased a 30-litre bottle of the Midas along with some other drinks. Apparently he was in town visiting a friend, who happens to be Bon Jovi. Oh, to be extravagantly rich.
2.
$310,000

Questionably Spent

The number two spot on our top ten list of expensive bar tabs goes to 20-something-year-old big shot Alex Hope, an investment banker who "invested" in over 300k of alcohol in March 2012. The lucky bar? Playground in Liverpool, UK, which served him and his professional soccer friends plenty of vodka and Armand de Brignac champagne. Some investments have painful consequences though, like when you invest in dirty money. Hope was later arrested for unauthorized trading.
1. A British Finish of
$500,000
The most expensive bar tab on our list goes to British entrepreneur Charles Shaker, who impressed all his billionaire buddies at the Billionaire's Club in Monte Carlo in May 2013 by treating them to half a million dollars' worth of drinks. The priciest item on his tab was a massive, 30-litre champagne of the Armand de Brignac Brut Gold NV "Dyanastie" Collection. It took 12 men to carry all of it out. Leonardo DiCaprio is also said to have been in attendance at the party…a true Gatsbian finish.
It's not hard to blow a small fortune at the bar. We've all had our next-morning regrets after spending far too much on a night out, even if it was on a smaller scale than the cases above. But with six-digit bottles and drinks costing more than a home's down payment, there's more opportunity for attention-seeking partiers to show off than ever.
Just check out this list of the most unbelievably expensive drinks in the world, and if you know any ballers (or wannabe-ballers) then share this post to let them know where they should be setting the bar.