The Super Bowl food menu is almost as important as the teams playing. It's the time of year when every sports fan goes hype-crazy, every foodie gets giddy and every person with a New Year's resolution that includes a diet or fitness plan falls off the wagon.

It's a wonderful scene: a fatty, caloric, flavourful, wonderful scene. Every party host knows they need more than a bag of chips and a jug of Pepsi if they're going to pull this thing off right. That's why we've compiled a list of some truly Instagrammable Super Bowl food ideas to help ensure you and your guests get the food hangover of the year. Break out the Martha Stewart magazine, you're going to need it.
Nobody wants to have their party flop. You could stick with the tried, tested and true food options and everyone will be content. But if you're looking to amp up your hosting status to next-level, go with some of these more indulgent Super Bowl food ideas.
Apple & Caramel Dip
Fruit doesn't belong at a Super Bowl party? Hold on a minute. How about if it's smothered in an abundance of brown sugar, caramel sauce and chocolate bar bits? It's easy to make and easy to devour. Check it out.
Meatball Parmesan Sliders
Don't just throw a few frozen patties in the frying pan. This recipe gives you some better burgers without altering the traditional slider too much. In just about an hour you've got yourself a few hand-held torpedoes of goodness.
Artistic Cake
It's not so much the cake that makes this option crazy, but the fact that there are talented artists out there that can build stuff like this. It'll take more skill than unwrapping the Pillsbury dough and tossing it in the oven to complete this work of art. But if you've go the skill, go for it. It might look too good to eat, but everyone makes room for dessert at some point.
7-Layer Dip
This one is a doozy. If you don't start here first you'll be having leftover seven layers for days when everyone is too full to attack this dish. There's a great food debate that has lasted generations concerning what ingredient should be the foundation for this finger-food triumph. Refried beans? Ground beef? We're not sure, we'll let you decide. All we know is you need sour cream, cream cheese, a hefty amount of guacamole, chunky salsa and a mountain of cheese. Shredded lettuce? Jalapenos? Olives? Whatever else you top it with is up to you. Why not throw conventions out the window and make it a 12 layer dip?
Chili
We know what you're thinking. Chili may sound tame, but it doesn't have to be limited to beans, tomatoes and beef. Get inventive. It's like the meal portion on the food menu of any Super Bowl party. It's filling, easy to serve and could give you a short break from the other intense options available. Why not make it interesting? Don't forget the sriracha.
Spicy Buffalo Cauliflower Wings
Vegetarians rejoice: there is a chicken wing substitute worth investing your time in. Just a handful of cheap ingredients plus thirty minutes and you've got yourself a spicy, healthy alternative.
Jalapeno and Bacon Popper Dip
Picture the taste of those classic stuffed jalapeno peppers but with less work involved. This recipe gives you a gourmet dip in half the time without sacrificing any of the taste. Keep the milk on hand in case things get a little too spicy.
Buffalo Chicken Cupcakes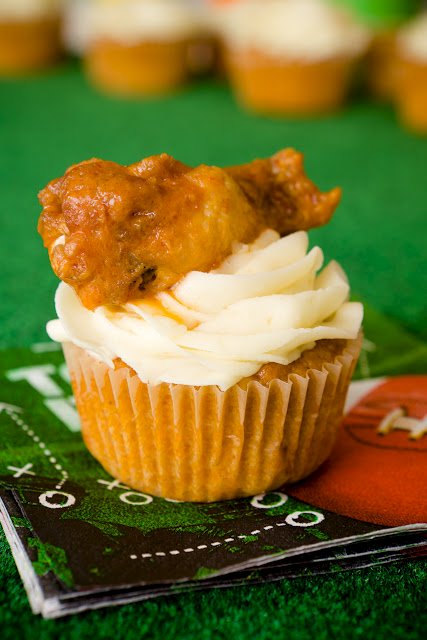 I thought it was a joke at first, but in fact it is very real. This recipe may take all of your culinary expertise, having to incorporate hot sauce into the cake and blue cheese into the icing. Call mom if you need to, because this dessert is an interesting must-try.
There you have it: a list of Super Bowl hall of fame food ideas. If you know someone hosting a party, make sure to share this post with them so they don't end up serving the typical chips, pop and pizza.
Will you have any vegitarians attending your party? If so, here is a book full of vegetarian superbowl party snacks Vegetarian Superbowl Party Snacks!: The Quick and Easy Guide for Delicious Homemade Game Day Recipes